Local 697 COVID-19 Bulletin Board
Brothers & Sisters – As you know, the COVID-19 situation continues to change at a rapid pace so I have decided to start this "COVID-19 Bulletin Board" as a centralized reference point for you and your family. This will continue to be updated as we have a very bumpy road ahead of us. Please make sure you have the Local 697 app download and the notifications turned on as I have been, and will continue to send out "push notifications" whenever new information is added.
Remember Brothers and Sisters, we have never seen a crisis like this in our lifetimes – please make safe and smart decisions for you and your family. Together, we will get through this and I will not leave your side.
697 Strong!
The Local 697 Federal Credit Union Annual Dinner Meeting that was scheudled for Friday, May 15th at the Avalon has been POSTPONED until further notice.
The Local 697 EWMC, RENEW, Motorcycle Club, Sisters and Veterans meetings are all POSTPONED until further notice.
Check the status of your Economic Impact Payment (stimulus check)

Confirm your payment type (direct deposit or check)

Enter your bank account information for direct deposit if you have yet to receive your payment

Update your bank account or mailing address if it has changed from your 2019 tax return
To visit the new IRS Stimulus Check website click HERE
I added a 9 page attachment for the "Frequently Asked Questions" (FAQ) that include the additional $600 in weekly unemployment benefits through July, 31st; 39 weeks of unemployment benefits through December 31st; $1,200 per person tax credit, plus $500 dependent (max 2) subject to income limits and much, much more.
Governor Holcomb signed Executive Order 20-18 on April 6th that contains information on the extension of the "stay-at-home order" that will now expire at 11:59pm on Monday, April 20, 2020, Extension of Continuity of Government; and Extension of Executive Orders Pertaining to Restaurants and Alcoholic Beverages.
UPDATE: Governor Holcomb signed Executive Order 20-22 on April 20th that contains information on the extension of the "stay-at-home order" that will now expire at 11:59pm on Friday, May 1, 2020. The Construction industry remains exempt under section 11, section 14(a), 14(i) and section 14(s).
There have been multiple questions as to how does the Governor's Executive order effect construction. The Executive Order, for the time being, does have exclusions for our industry as stated in section 11, section 14(a), 14(i) and section 14(s).
To file for unemployment, visit www.unemployment.in.gov which includes an updated FAQ, tutorial and other helpful information.
DWD has released a new set of simple how-to videos to assist the user experience for claimants. The new video collection can be found here: https://on.in.gov/uivids
Please be patient and remember, there is a Covid-19 section at the end to help clarify your reason for filing. These are the (3) Covid-19 questions you will have to answer...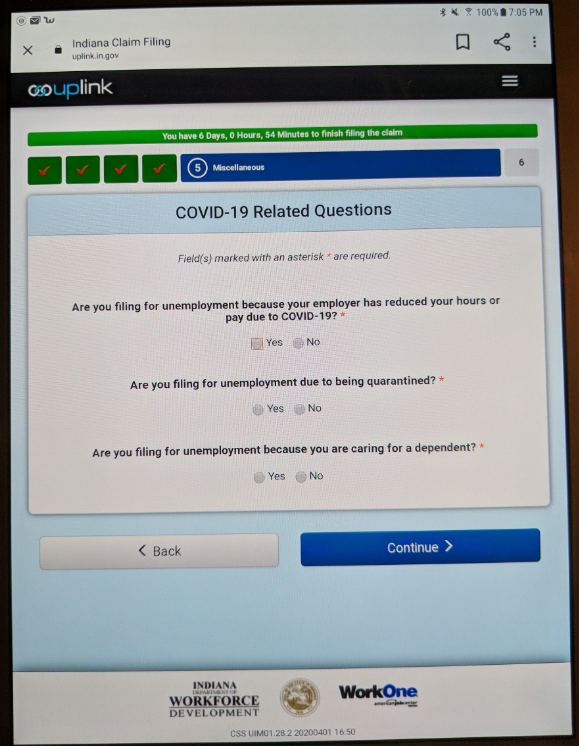 The $600 weekly PUC payments will start Monday, April 20, 2020.

DWD will pay retroactively from week-ending March 29, 2020 (through the week-ending July 31, 2020, if applicable.)

Be mindful in work-sharing / under-employment situations: a claimant must be able to receive at least $1 in Indiana unemployment insurance benefits in a week in order to obtain the $600 in federal PUC.
Multi-State Unemployment Insurance Benefit Claims
If within the based period (the first four of the last five quarters) a member has worked for contractors in two different states and is now laid off--as a practical matter--they should file for unemployment in the state with the highest weekly benefit amounts. (They may not file in both.) This assumes that the claimant has earned enough wage credits in that state to qualify for UI benefits. If they don't, they may be told to file in the second state. Indiana has the ability for a claimant to file a "combined wage claim," so this should not be the case if they file in Indiana. Note that whichever state establishes eligibility will payout the weekly $600 in federal PUC.
Go to the Local 697 Benefits Office website at www.ibew697benefits.com/sub-fund/

On the left hand side of the S.U.B. Fund landing page, locate "SUB FUND FORMS"

Within that section, locate and click upon "Weekly S.U.B. Fund Benefit Application"

Print out that form and complete in its entirety.

Take a picture with your cell phone of the completed application along with your weekly state unemployment print out.

E-mail the pictures to phuff@ibew697benefits.org

If you do not wish to e-mail the paperwork, you may either mail in the forms or drop them off through the Credit Unions drive-up window.
| | | |
| --- | --- | --- |
| Work Quarter | | Quarter of Coverage |
| | | |
| | | |
| | | |
| | | |
Check your pay stubs.

Check the balance within your vacation fund. Then take the vacation dollar amount contributed for that month and divide that figure by 5%, which is the rate in which your employer is required to contribute. That figure will provide you with your gross salary for that month. Now divide that figure by the hourly wage.That figure is the number of hours you worked that month.

Check the amounts contributed to their Annuity (Vanguard Account). Follow the same steps as listed above but use the gross salary contribution rate 16.07%.

Or you can always call the call the Fund Office at 219-940-6181.
USER NAME: ckent1234in (not case sensitive)
Go to www.Paylocity.com and login

Click upon the "Manage My Expenses" button.

Click on "Add Expense"

Complete the expense detailed fields. Be sure to fill out as many fields as possible and under the expense description, enter "Shortage of Hours"

Under date of service, enter 3/31/2020.

Under the sections titled "Amount Billed" and "Total Expense" enter the amount owed for the shortage of hours.

Under provider, add the Fund.

Provider Name: Local 697 H&B

Provider Account: This is your medical Id number.

Provider Address: 7200 Mississippi Street, Merrillville IN 46410

Click Save.This will automatically pre-populate the fields.

Pick the member as the participant

Upload a copy of the Funds shortage of hours' notice.

Click "Save for Later"

At the top of the page you will see the following message "Your expense has been successfully added', and you will also see that a new expense line was added to the top of your expense list.

You are done.
Loan amount up to $5,000 with no payments for 90 days*

Low interest rate of 6.99%*

Up to 24 months to pay back the loan in full (after the 90-day payment deferment 27-month total term)*
For our members that have their Real Estate Loans with the Local 697 Credit Union that are being serviced by Member First Mortgage and are requesting hardship assistance, you can visit their website at www.memberfirstmortgage.com and under the resources tab is a "hardship assistance link" that gives you direct access to the Mortgage Assistance Application which needs to be completed and returned. You can contact them at 866-636-1053 or the Local 697 Credit Union at 219-845-6040 if you have questions.
This guidance is not a standard or regulation, and it creates no new legal obligations. It contains recommendations as well as descriptions of mandatory safety and health standards. The recommendations are advisory in nature, informational in content, and are intended to assist employers in providing a safe and healthful workplace. The Occupational Safety and Health Act requires employers to comply with safety and health standards and regulations promulgated by OSHA or by a state with an OSHA-approved state plan. In addition, the Act's General Duty Clause, Section 5(a)(1), requires employers to provide their employees with a workplace free from recognized hazards likely to cause death or serious physical harm. Material contained in this publication is in the public domain and may be reproduced, fully or partially, without permission. Source credit is requested but not required. To view the 35 page document click HERE.